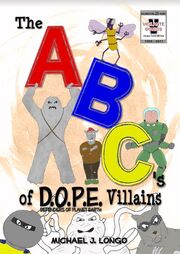 "The ABC's of D.O.P.E. Villains" is a children's book full of colorful pictures of various criminals in the
D.O.P.E.
world. The book is intended for young children learning their alphabet, and for older kids who like the characters and who could expand their vocabulary with the wordy alliterative descriptions of each crook.
The villains portrayed in the book are:
Availability
Edit
To purchase this book via Indyplanet.com, visit this page: http://www.indyplanet.us/product/157178/ The comic is available in physical and digital form there.
Sales numbers not yet posted.