Aunt Macy is Ben Smiley's dead aunt.
Initial Era
Edit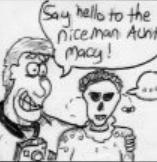 In the
Initial Era
, Aunt Macy first appears in "
Legends of Sprinkles the Psychotic Moose
" Number 1 (1995).
Ben Smiley is
carrying her around, and treating her as if she's alive. He says that he thinks of her as his mother.