Ben Smiley is Peter Pecker's evil third cousin clone, and the identity of McClone.
Initial Era
Edit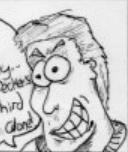 In the
Initial Era
, Ben Smiley first appears in "
Legends of Sprinkles the Psychotic Moose
" Number 1 (1995). He shows up in
Richard Lunie
's house and introduces Richard to his
Aunt Macy
(who is dead). Later,
Captain Nutso
and
McClone
rob a jewelry store and are confronted by
Sprinkles and
Jack
. Sprinkles decapitates McClone, killing Ben Smiley.