Bernie is a TV personality, a purple dinosaur character who has his own kids TV show, "Bernie". He is a parody of Barney the dinosaur.
Initial Era
Edit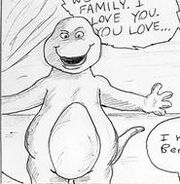 In the
Initial Era
, Bernie first appears in "
Sprinkles Slayin' Special
" #1 (1993).
Sprinkles
and
Jack
are watching his TV show. On the set, after the show, Bernie rapes the young boy,
Bobbie
, who was on the show behind his
Curtain of Perversion
. On the news ("
News 6 at 6
") it's reported that the boy was found abused and murdered. Sprinkles goes after Bernie, who makes a plea on TV to parents to bring their cute kids down to the show to fill the void left by the boy's death. As Bernie approaches a possible replacement boy,
Todd
, on his set with a dino-erection, Sprinkles jumps in and chops off his member with an ax. Bernie comes on to Sprinkles who punches him down, knocking off the Bernie mask. The man inside doesn't understand why Sprinkles is attacking him. But that doesn't deter Sprinkles, who chops open the man's chest and rips out his ribs and his heart. As Sprinkles walks away, a mysterious hand is shown reaching for the Bernie mask.