Bruno is a large muscular bouncer for Bobo the Clown.
Initial Era
Edit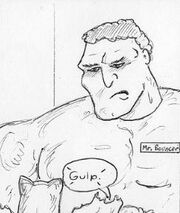 In the
Initial Era
, Bruno first appears in
Sprinkles the Psychotic Moose Volume 1
, Number 26. He is a bouncer at the
Bobo the Clown TV show
. He stops
Sprinkles
and
Jack
from going backstage until he sees their passes. And after their melee with
Bobo
, Bruno attempts to get physical with them, but Sprinkles rams him with his antlers, knocking Bruno out.