The Cobweb Café is a popular coffee house chain in greater Quadropolis. It is a subsidiary of McSpideyCo.
Current Era Appearances
Edit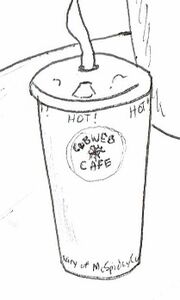 Cobweb Café first shows up in "
Potted Plant Man
" #1 (July 2014).
Potted Plant Man is
shown with a cup of Cobweb Café coffee as he is checking his phone.