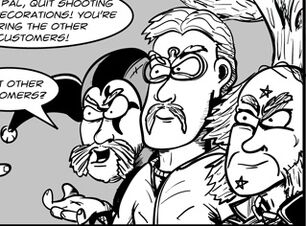 The Commanders in Grief are a group of villains who were cloned from original president DNA and raised to be evil instead of good. The group consists of
Dead Eye Roosevelt
, who appears to be their leader,
Martin Van Ruin
and
Jester A. Arthur
.
Group Information
Edit
Members: Dead Eye Roosevelt, Martin Van Ruin and Jester A. Arthur
Created: in 2013 by Matt Forrestall
First Appearance: Sprinkles and Jack (short) #3 (2013)
Current Era Appearances
Edit
The Commanders first appear in the Sprinkles and Jack shorts titled "Commanders in Grief" (2013). In that three-part story, the threesome reveal themselves to car salesmen on Presidents Day. Roosevelt also reveals that they are clones of real presidents, whose DNA was removed and enhanced to create them. Their mission is to bring the country down and regain power. They then steal three sports cars at gunpoint and speed off.
Original Concept
Edit
Initially the Commanders in Grief were conceived to be bank robbers. Vicious Lincoln was the main one. Another was Martin Van Evil, who could call upon the dark arts. Their story was never told; however in the Current Era, the Commanders in Grief were retooled and brought to life. Lincoln was gone, replaced by Dead Eye Roosevelt, but Martin Van Evil remained, his name changed to Martin Van Ruin.