Conesy is an Ice Cream Truck driver in Quadropolis.
Digital Era
Edit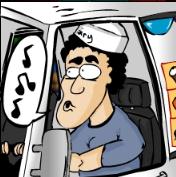 In the
Digital Era
, Conesy appears in
"Sprinkles the Psychotic Moose" Volume 2
, Number 1 (2008). He's driving his ice cream truck (which sells, among other things, Dreamsicles and
I.C. Wiener
) around when his mirror is shot by police who want some rocket pops.