Crudzilla is a giant reptilian creature who rises from the water and attacks Quadropolis. He is a parody of Godzilla.
Initial Era
Edit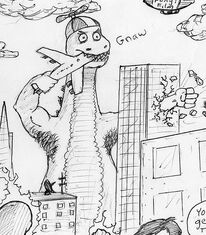 In the
Initial Era
, Crudzilla first appears in
D.O.P.E. Volume 1
, Number 12 (1994). He is attacking the bay with his breath blast when
D.O.P.E.
hears the alarm. The main four are challenged by
Big Mouth to
handle Crudzilla themselves. They fly out in the van to fight him.
Flaming Idiot goes
straight at him with his fire blasts, but Crudzilla fights back with his eye lasers. Crudzilla's power is too strong and Flamin' gets hit, sending him falling.
Saliva-Man and
Pinhead fly
in the van to save him, but Crudzilla smashes the van with his fist.
Leper then
attacks, blasting Crudzilla with some disease-ray that he didn't even know he had, and it has little effect on the creature. Finally, an arrow shot by
Turk
, large lizard hunter, hits Crudzilla, and sends him back into the ocean.