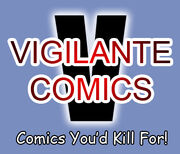 The Current Era of
Vigilante Comics
(2011-present), along with the
Initial Era
and the
Digital Era
, is a continuity of Sprinkles and related comic books. This era includes the latest series of
Sprinkles
and
D.O.P.E.
comic books, as well as digital shorts and old fashioned paper drawn comics. This era reflects a reboot of the main characters and a retelling of back stories.
The Current Era currently has two full length, full size comic book series in the works, a set of one-page shorts, comic strips, and some simply drawn books on folded letter sized paper.
Full length comic book series:
Edit
Manga Sized comic book series:
Edit
D.O.P.E. Mini-Comic (in production)
Digital short comics:
Edit
Comic Strips:
Edit
Old school homemade paper comics:
Edit
Mange Sized Trade Paperbacks
Edit
Novelizations:
Edit
Children's Books:
Edit
Visit the timeline to see the order in which Current Era comics were released.