Dr. Crocopus is a McSpidey villain, parody of Dr. Octopus.
Initial Era
Edit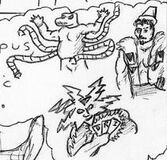 In the
Initial Era
, Dr. Crocopus is first mentioned in
Vigilante Comics Presents
Number 3.
McSpidey
is swinging above the city and recapping his day, in which he fought Dr. Crocopus,
Crayon the Hunter
and
Elector
and his electric votes.