Elector is a McSpidey villain, parody of Electro.
Initial Era
Edit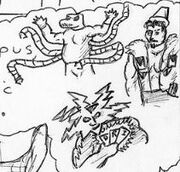 In the
Initial Era
, Elector is first mentioned in
Vigilante Comics Presents
Number 3.
McSpidey
is swinging above the city and recapping his day, in which he fought
Dr. Crocopus
,
Crayon the Hunter
and Elector and his electric votes.