Genghis is a henchman of Buckethead's.
Digital Era
Edit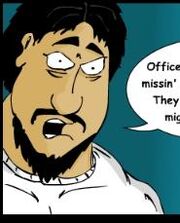 In the
Digital Era
, Genghis appears in
Sprinkles the Psychotic Moose Volume 2
, Number 1 (2008). At
Dr. N. Sane's Home for the Mentally Unfit
,
Dr. N. Sane
had called for orderlies to take Buckethead away. The orderlies arrive, but turn out to be working for Buckethead. One is
Alexander
, who removes Buckethead's straightjacket. The other is Genghis, who grabs N. Sane's arm and cracks it. However, Buckethead isn't quite ready to leave. He's come to the realization that his obsession with
Martin Lewis
is clouding his judgement. Alexander and Genghis then inform him that Martin Lewis has gone missing months ago, and he's believed to be dead. This infuriates Buckethead, and he asks N. Sane if he knew. N. Sane is flustered and sorta admits to it. Genghis then pinches his neck, causing N. Sane to open up. He admits that it was the
Commissioner
's idea, and that N. Sane was allowed to keep Buckethead as a patient so that he could write a book about it, as long as he didn't tell him about Lewis. N. Sane fears for his life, but Buckethead's actually impressed with the doctor's devious plan. He has N. Sane tied up, and takes some of his
Worther's Originals
candies before leaving, feeling free due to the news of Lewis being out of the picture.