M.C. Jammer is a superhero and a member of W.O.R.D.
Personal Information
Edit
Real name: Leroy Pitch
Previously Known as: M.C. Rap
Place of Origin: Currently lives in Quadropolis
Group Affiliation: W.O.R.D.
Created: in 1992 by Matt Forrestall
First Appearance: W.O.R.D. #1 (1992)
Initial Era
Edit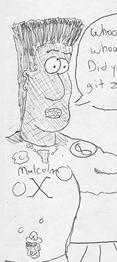 In the
Initial Era
, M.C. Jammer first appears in
W.O.R.D.
#1 (1992).
Leroy Pitch
is zapped by a strange lightning storm while listening to his boombox. The zap gives him the power to rap loudly. He takes the name M.C. Rap. (Later, his creator changed the character's name to M.C. Jammer). He then meets up with his friends who also were zapped and given powers. Together,
Kenpo
,
Burrito Man
, M.C. Jammer and
Sombrero
decide to become superheroes and they form a team -
W.O.R.D.